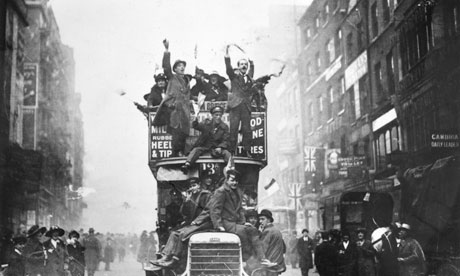 Since late August, model soldiers have been mostly crowded off this blog by the online Diplomacy game, one of several Play-by-Blog projects that seem to be a minor trend in our community, which is an interesting development and a good thing, I feel.
I'm a little sad to say that our Diplomacy game is now over.   With four remaining at the table, and very much in the endgame, a player told me that he simply did not have time to continue with the project, and with Christmas coming and all manner of distractions ahead, including Curt Campbell's Analogue Painting Challenge V which starts at the end of this week (God help me), this seems like a good time to finish.
So Now It Can Be Told.
Since this was a Blind Game, with only a few security breaches on my part, here are the players, most of whom are still (well, maybe, I don't really know what Intelligence work went on behind the scenes) ignorant of one another's identity, in order of final standing.
England, Score 12 and the Winner:  Mark Haughey (owner of the Sun of York blog).
Turkey, Score 11 and Runner Up, Tim Gow (owner of the Megablitz blog)
Italy, Score 7 and Third Place, Edwin King (owner of the Thoughts of a Depressive Diplomatist blog)
France, Score 4, Thomas Nissvik (owner of the Learning by Doing blog and one of my favourite Vikings)
Also Ran and Damned Honourably At That:
Germany, Pat G (owner of the Irregular Warband Fast blog and fellow Canadian)
Russia, Robert Audin (Owner of the Fiends in Waistcoats blog)
Austria (This player had to leave the game early and I will respect their privacy).
Thank you all for playing, it was terrific fun.   Your dispatches and posturing always came to me before I forwarded them, and made for interesting reading.  Some of you were quite new to Diplomacy, and others were old hands, but you all gave it a shot and bravo to you.  If you never played Diplomacy before and now can say you have, then I consider this to have been worthwhile.
At the outset of the game I promised two prizes.  I have two minis from Artizan which I think sort of capture the look of generic European generals from the turn of the century (provided they are French, Italian or Austrian).  They might do for turn of the century Pulp Gaming.
As the winner, Mark Haughey gets this one for the narrowest of wins over Turkey.  However, with Mark's total stab of France in the Fall 1906 turn, I think he was in the best spot to get the 16 Supply Centres needed to win, whereas Turkey had a tougher shot at the magic number.  Mark, let me know if you'd like him painted and if so, give me some general guidance as far as uniform and hair colour, otherwise I'll use my imagination).
 The second prize, for best role play, was much harder to decide on.   A number of players did this very well.   Tim Gow's dispatches as Sultan And-al-Hamid II, which always ended with the delightful phrase "Blessings upon you and may your camels be ever fruitful", always delighted me.  Tim and Mark both practised a very clever brand of diplomacy, always keeping their cards close to their chests and always lying with a straight face.  Remind me never to play poker with these guys.   Pat G never ever gave up,  Right to the end, with one SC and one Army, he was wheeling and dealing, and working the telegraph for all he was worth.   His Kaiser impersonation, particularly his exchanges with his "Uncle" in England, were always fun.
Well, there has to be a winner, and I choose Edwin King for several reasons.  First, his diplomacy was steady and effective, and along with his skillful playing gave the leading players a healthy sense of respect for Italy. My favourite message of the game was one where, early on, he told the bellicose Kaiser "Don't rattle your sabre at me, Sir!" and then gave a long scolding lecture on how Germany needed friends, not more enemies.  Also, Edwin's creations on the true role-playing side were epic.   I will not soon forget Count di Graspi, the general who became a crazed and mystical dictator, or the venal and corrupt Ernest Harriman (his name seemed to fluctuate a bit) who came to life in the pages of the Daily Dissembler.   This was true fluff, but it was well done, with great humour and creativity, and seems to me deserving of recognition.  So, Edwin, I gladly award you this prize, to help you remember the Lion of Trieste in his salad days.  Again, let me know if you want him painted or unpainted, and if painted, pray give some guidance as to uniform colours.
 I hope the players will chime in with their own thoughts and comments on their strategies,  that would be interesting.
I also wish to pay a special tribute to Ion Dowman (also known as Archduke Piccolo) for his insightful play by play commentary as General Erasmus Blatt.   It was always very entertaining and instructive.  Ion, how did you see the game ending if we'd played to the bitter end?  I'd be interested to know that.   Also, there is a little something on my painting bench for you, but it won't make it's way down under before Christmas, sadly.
Could I see myself doing this again?  Most likely yes, but not until after Easter of 2015 at the earliest, as I shall be quite busy between now and then.  If you are interested in getting on the list for another game, please let me know.
Cheers and blessings to you all!
Michael