For the last few months I've been haunting thrift stores, looking for empty biscuit tins among other things (a $1 Armani Collezione tie was a nice bonus). The biscuit tins are to start loading my figures for the upcoming move in July. Thanks to a kind friend I have a goodly supply of adhesive magnetic sheets that I can use either to line the pans for those figures based on metal washers (below left), or to put on the bottoms of figures based on rounds of wood cut with a circular saw (my previous practice before I discovered laser-cut MDF bases). Here are all my individually based American Civil War figures in one biscuit tin.
Once the tins are filled, I'll fill them with packing peanuts, generously supplied by another friend, and load them into boxes for the trip. We're close enough to our new posting that I can load the most sensitive of my toys and drive them in my car, which will be far better than entrusting them to the packers and movers for a long trip across Canada. When we moved to Alberta from Nova Scotia (almost clear across Canada), I had all my figures packed in boxes with This Side Up marked on them. I gave strict instructions to the packers to make sure they were properly loaded. The young lads nodded and smiled. When I unpacked the shipping boxes, the little boxes with my toys had been crammed in any which way. I am sure I cried for a bit that day.

I have to say that this method of loading troops is probably much easier and more orderly than what it must have been like in the ACW, if this period photo (Baldy Smith's IX Corps loading for transport to Fortress Monroe) is anything to go on.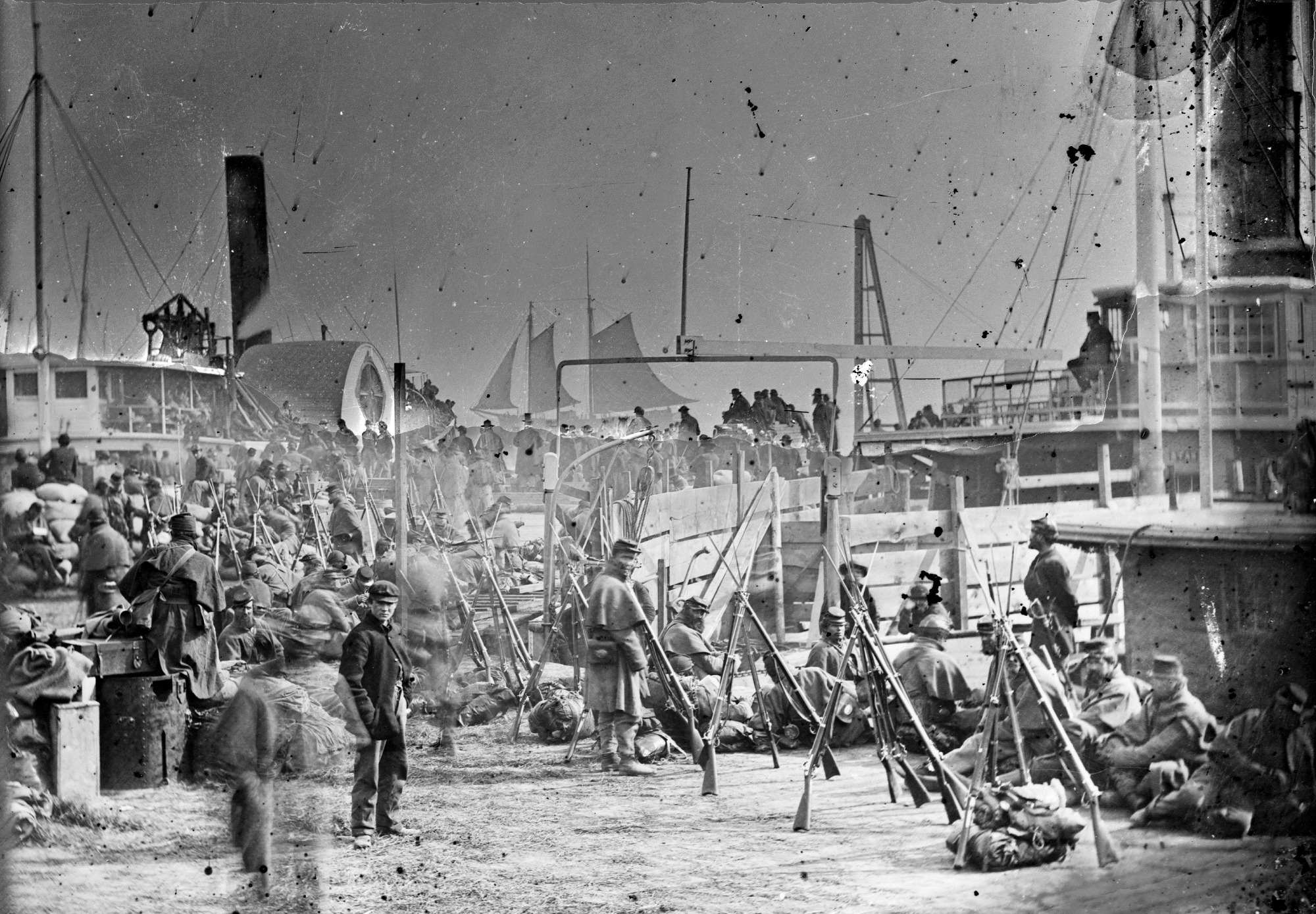 In a few minutes Kay and I will meet up with our realtor and we are off to look at houses in the area of Barrie, Ontario, which is about an hour north of Toronto. We have certain things will be looking for. Price, foremost, since we are close enough to Toronto to feel the effects of its insanely priced housing market. Gardening potential, for Madame Padre. Commuting distance to the base for me, and somewhere down the list of priorities, a suitable gaming room with (one hopes) natural light.
Wish us luck.
Blessings,
MP+